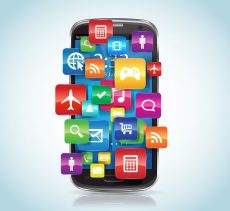 Custom Mobile App Development Is Here
For internet usage, mobile devices have taken over traditional computers. This shift has changed the focus of many companies due to the fact that there have been many ideas that work extremely well in mobile app form. Smartphones are convenient: they can be taken literally anywhere and are quick to wake and view content on. App development is a bit different from web design for this reason, even if the core concept is similar.
We specialize in all things web-related and that includes mobile apps for this very reason. Quality mobile apps are high in demand for businesses because it is a market with a vast array of users, because of this, we put great effort into ensuring that the applications we develop for customers rival the best.
Net-Craft isn't just a web design company, we are also a mobile app development company in Phoenix, Arizona.
Key Elements Of Good App Design
First, mobile applications are navigated exclusively through touch input. Because of this knowledge, things can be implemented in an app that wouldn't necessarily be so easy to accomplish on a site built for both desktop and mobile.
As a custom mobile app development company. We understand that mobile applications require important info to be front and center when a user opens the app. Mobile devices are often used in quick bursts which makes the overall design of an app different from a website. On top of this, good capacitive touch navigation requires the use of natural gestures that just make sense.
Why Choose Net-Craft For Mobile Development
We start by building a rough draft of the app itself, we will have an interactive early stage of the layout built that you can view and approve. We value communication with our customers highly, which is why we will always keep you updated on the progress and answer any questions you have. Once we have completed development, the app, then goes into extensive testing to ensure everything is working as it should; free from bugs, crashes, and performance issues.
We only have the best talent work on projects, our team has skilled programmers that are very well adapted to native programming languages used in mobile app development. This is to ensure an efficient development process that will produce the expected quality. Lastly, our database programmers ensure interaction with the cloud works smoothly.
You can get started by visiting here to learn more; simply fill out a contact form to get an estimated quote on your project! https://www.net-craft.com/services/app-mobile-development/