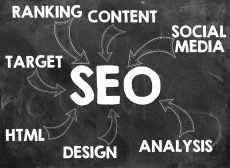 Search Engine Optimization – The Pillar Of a Successful Website
Websites are set up to get people to view what you are trying to share, The more people click to view your website, the better it is for the business. Getting as many people as possible to see what you have to offer to potential customers is a crucial step.
Net-Craft is a search engine optimization company based in Scottsdale that will empower your website to make it rank higher in search engine results.
Why SEO Is Important
It is estimated that there are around 200 million active websites that exist on the web today. Many of them likely are in a similar business as your own. Our Scottsdale SEO services will optimize your site to wade through the others.
When people need something on the internet, the first thing they will do is search for what they are looking for using keywords. If you are running a spicy BBQ themed restaurant, you will want your website as close to the top as possible when someone searches "Spicy BBQ in X". This is exactly what search engine optimization aims to do.
However, SEO isn't just based on keywords. There are many factors that go into search engine optimization, for example — Google scans for overall quality of written content to rank websites; their algorithm is intelligent and complex and thus, content that plays towards it and your customers will affect the ranking in the search results.
Pay Per Click Marketing
Net-Craft also specializes as a Scottsdale PPC company. PPC stands for pay-per-click and is one of the most effective ways to get your website out there. Basically, the website is either ranked in a high spot of a search engine an ad or displayed as an advertisement on another website. When someone clicks on the ad, the site pays a small fee. The goal is that those clicks turn into a hefty profit. When working properly, PPC will put your website into a spot you want it to be.
PPC is an auctioning system overall. When a keyword is highly desired, an auction will be triggered on said keyword/phrase. Advertisers try to outbid each other to get prized search queries. This isn't enough to automatically be at the top, however, Google will also assign a quality score to your site which affects your ranking as well.
PPC along with optimizing a website for SEO will go a long way in helping your business grow. It is an investment that fights for viewers. Net-Craft's SEO services will help you get your website placed where it deserves. Learn more and get started here: https://www.net-craft.com/services/internet-marketing/organic-search-optimization/