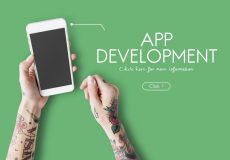 Why Should I Develop a Business App for My Business?
If you are looking for a way to develop a mobile app for your business, we don't blame you. Every day, people use between 9 and 10 apps on their phone. There are over 4 million apps that can be downloaded on Google Play and the Apple Store. Many adults spend more time using the apps on their phone than they do using their phones to talk.
While developing an app is a great idea for your business, it isn't something most people can do alone. You need a custom mobile app development company to help you perfect your idea. We are the company you want to turn to for all of your mobile app development needs.
Why Developing an App Works
Consumers love to use apps because they are shortcuts into doing business. They make what is routine effortless. Think about an app you use often. You can open the app on your phone, and the app takes you wherever you want to go. Mobile app development in Arizona allows businesses to streamline customer processes with a single click or swipe.
When you have your own app, you customers would be able to do lots of things to interact with you and your business–which researchers say translates into profit for your business. Customers could schedule appointments, preview new merchandise, shop for items they need, and have them shipped to their house. They could also interact with you through the app with requests, concerns or ideas they have about new products or services. Some mobile apps have ways that customers can interact with each other, and increase the chat about your business. All of this is good for your bottom line.
Apps also have the ability to release a lot of data to you as information. An app can tell you who has downloaded it, and how often they are on it. Apps can also tell you what your customers are looking at and clicking on, and the products or services they buy. Apps can tell you where the bulk of your customers come from as well. These applications are vital to many businesses for tracking supply and demand, types of purchases, profitable lines and customer feedback.
Don't Try This At Home
You may have heard stories about people who developed apps on their own and made millions of dollars with no training. Those people are few and far between. Most apps that are developed for use by businesses are developed by professionals. These professional app developers take ideas their customers have and run with it. They work with their clients to create the perfect app for their business. You want your app to be perfect for your business needs and only a business app developer can give you that.
If you are looking for a professional app development company, to take your thoughts and ideas to the next level, don't hesitate. Contact us today, and let us get started on your app as soon as possible.