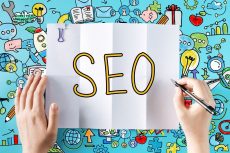 What Is An SEO Company, and Why Should I Care?
We all marvel at search engines such as Google every day. That's because search engines take a few words we type in and spit out millions of results in a tenth of a second. These search engines even rank the searches in order so you can scroll down and click on the search result you want. None of this happens by accident. The tools search engines use can be very helpful from a business perspective. Not sure what we're talking about? Let us give you some pointers on search engine optimization.
Information on SEO Companies
SEO (or search engine optimization) is how search engines rank searches. All search engines use keywords that you type in to rank results from your search. Think about that for a second. When you type in "Jaws" or "killer great white shark movie", we're willing to be "Jaws" will be close to the top. Search engines rank millions of data points each day into a results listing. Research into searching online have demonstrated that often, people type in particular keywords for what they are looking for, which makes sense. If you are looking for "killer great white shark movie", you aren't going to put in "movie about cars".
A search engine optimization company in Scottsdale is going to develop keywords that you can use in articles, blog posts and website design. In fact, SEO services Scottsdale can design your website, posts or articles to include keywords. The more those keywords are used, the higher your page or website will appear in search engine listings. The goal for any business is to be as high up in the results as possible, because consumers aren't going to take the time to sift through 25 pages of results to find your business. They are going to click on a business listing near the top of the results that they think suits their needs.
Why Is This So Important?
Search engine optimization is vital for any company, because it is what drives traffic to your site. The higher you are on a results page from a search engine, the more customers will click on your business name. Experts say that the more clicks you have for your business, the more customers you will have. Think for a minute how many clicks large, well-known companies must have to drive people to their site every day– it's in the millions.
If you are ready to take your company to the next level, and attract as many customers to your site as possible, then you need an SEO company who will listen to what you need, and make suggestions to help move your business ahead of your competition in the search engines. You want an SEO services company to become a great tool for you and the needs of your business, so that you can move your company to the top of a results page.
If you are looking for an SEO company in the Scottsdale area, you need to look at us. Ask your business contacts and customers who they have used in the past to drive customers to their page. We're willing to bet once you've talked to people in the area, you're going to want to contact us.