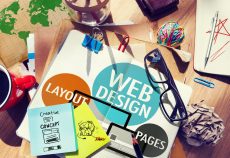 Have You Looked at Your Web Design Lately? You Should.
When was the last time you looked at your web design for your business? When your business was first starting out, you may have designed your website yourself, just to put something out there. A lot of companies do that at the beginning. But in order to move your company forward, you need to consider the importance of designing a website that truly makes your business site professional, and that will drive customers to your store. Here's what you need to look for in your business web design.
Is Your Website Professional Looking?
Does this sound like you? You find a company that you are interested in, you click on their website, and you are immediately put off by their web design in Scottsdale, AZ. The type isn't spaced correctly on the page, or it may even run over pictures. The page itself is so full of pictures and words you have no idea where to click. Maybe the business website has old jokes on it, or even old contact information that isn't helpful. You may notice that the website looks like it was designed in 2000, and it isn't mobile friendly. You want affordable web design in Phoenix to make your business web pages clean, modern, and professional looking.
Is Your Website User Friendly?
Think about exactly how much time you spend on a website if it is difficult to navigate, or if you can't figure out how to change a page or click on what you need. You may not be able to get the products or services you want, so you aren't going to stay long. When it comes to website design Scottsdale residents will love, you will make sure your web design easy to use and customer friendly. You want customers to love the look of your website, and you want them to be able to interact with it quickly.
Does Your Website Reflect Your Business?
Your business is a reflection of you, and the amount of time and effort you have put into it, watching it grow and develop. You want your business to continue to grow and get stronger, so you can get more customers, and help more clients. Your website needs to reflect your qualities and the qualities of your business. If you own a plumbing company, your website needs to reflect your company values and your commitment to customer service. You should have a blog where customers can go for information. You could have some pictures of plumbing disasters, and you want to make sure your customers know they can reach your business to get help 24 hours a day, 7 days a week. Your page should be personal and professional.
When you're ready to design (or redesign) a website for your company, we hope you contact us. We have spent years perfecting website design, and we are passionate about helping our clients get the most out of their websites. We promise to listen to your needs, and develop a website you can be proud of. Why not contact us today, and let us help you get started on an amazing website design?