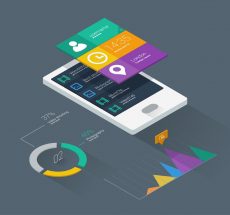 Choosing The Right Company To Design Your Mobile App
If there is one thing that has changed in the last decade, it is the dependency of users on mobile phones. People have now gotten accustomed to completing most of their tasks using their smartphones rather than their computer or laptop.
Each year a lot of money is invested in developing mobile apps that can help businesses flourish. If you are contemplating getting a mobile app developed for your brand then you should always look out for reliable and affordable custom mobile app development company services. If you are confused about what you should look for when picking the right mobile app development company then here are a few factors that you need to consider.
Customer Reviews
When it comes to identifying an ace IT company for custom mobile app development, their reputation speaks volumes. In a day and age where everything is easily available on the internet, it is a smart idea to go through the feedback and reviews on third party websites rather than their own website. This will give you a clear idea of the positive attributes the business has to offer along with the areas they are not very strong in.
Security
The concept of your mobile app is probably your biggest asset. Ensuring that the idea is not leaked out and poor-quality replica apps are not floating around on the app store is something the development company should take care of. You need to choose a company that has strict security measures, so your app is in safe hands.
Effective Delivery Management
It's a smart choice to go ahead with the best mobile app development company in Phoenix because they ensure flawless communication with their clients on a regular basis and this helps them keep their clients updated on the latest developments in the world of mobile app development. This will help the business update their mobile app whenever necessary without too much investment or downtime.
Standards
Another factor that you need to consider is getting a mobile app developed from scratch rather than getting one replicated from another popular app already available on the Play Store. Always emphasize on checking the experience and the skill set of the developer involved in making the app. This will help in getting a world-class app as an end result. It also helps if they understand what sort of ideas you have with regards to the development of the app.
Testing Measures
A mobile app may have a few bugs when it first launches and that's normal. However, fixing these errors and bugs in the nick of time is what sets a great mobile app development company apart from an average one. Excellent companies ensure that the app is not released into the Play Store until comprehensive testing has been completed.
Mobile app development is a considerable investment and it is important for you to make the right choice if you want a positive end-result. Make sure you take your time and consider your options and also weigh the pros and cons before you move ahead with any company.
Please contact-us today for a free app development consultation.