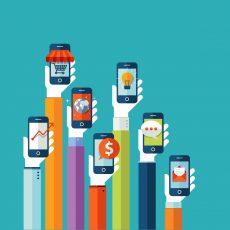 Mobile Development
You need to take your website, product, or service to the next level. You've leveraged the incredible power of SEO to make sure you're always at the top of the page whenever a prospective customer or client does an Internet search for your field. You've redesigned your website so that not only does it look great, but it's a breeze to use and navigate. So what's next? How do you keep evolving your brand's digital presence to keep up with the rapidly-changing Internet environment? The answer is Net-Craft, one of the top mobile app development companies in Phoenix.
What is Mobile Development?
Mobile development is a broad discipline revolving around delivering experiences optimized for mobile platforms like Apple (iOS) and Google (Android). For the most part, this means developing custom apps and mobile-only websites. But at Net-Craft, we go a lot deeper than this. Our programmers are skilled in both front and back-end app development, and can adapt to your programming needs, whether that means Objective C, Java, Swift, or hybrid technologies like React Native. We know that experienced mobile users have certain expectations, and we work to not only meet those expectations, but exceed them with responsive, easy-to-use interfaces that are clean and elegant so your brand always looks its best.
How Can Mobile Development Help Me?
More people than ever are using the Internet from their phones rather than desktop or laptop computers. And a growing number of these people, especially among the younger demographics, are using their phones as their primary means of interacting with the Internet. This means that for these users it doesn't matter how much time, effort, or money you spend on making sure your website is an immersive, all-inclusive experience if you didn't bother to upgrade it for mobile users. Unless specifically designed for smaller screens, most websites are clunky, difficult to navigate, and break when viewed via mobile platforms that don't support a full range of features.
If you already have a mobile-optimized website the next step up is a custom mobile app. Many users prefer to access a brand or service via a dedicated app that can be designed from the ground-up to be an extension of what you offer. A quality app is a powerful method to capture your prospective customer's undivided attention without outside distraction. Indeed, some brands and services primarily present themselves through an app medium rather than a traditional or mobile website.
Discover Why Net-Craft isn't Like the Rest
Here at Net-Craft, we pride ourselves on going deeper than just simple development. Our expert programmers are as much engineers as they are artists, and we're not content to just deliver to you an app that works. We only call a job done when the app is a reflection of your brand and your unique voice. In today's world, apps are often one of the primary ways that prospective clients and customers interact with you and your company. That's why, if you're looking for mobile app development in Arizona, there's only one choice — Net-Craft.