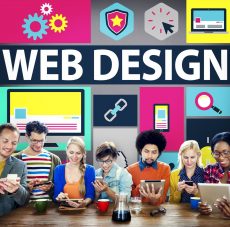 What is Web Design and how can it help?
As of 2020 there are 1.7 billion websites. 1.7 billion is enough to travel around the world 68,270 times, give every single American $5, or buy 8,500 homes — enough for 43 homes in every country of the world! In other words, there are a lot of websites out there, and more are appearing every day. So how do you make your website stand out? That's where Net-Craft comes in, your first choice for affordable website design in Phoenix, AZ.
What is Web Design?
Web design isn't just one thing. It's a whole field of different services and techniques all designed to turn your website from boring and forgettable to your customers' or clients' one stop for all their needs. When most people hear the phrase "web design" they think it refers to just the visual appearance of their website. While that's a big part of it, there's a lot more that goes into making sure your website is easy to navigate and use. That's why Net-Craft, as one of the leading Scottsdale web design companies, offers features like secure eCommerce integration, internal site search, multiple user login access rights, and many others.
How can Web Design Help Me?
In our modern world, web design plays the role of storefront, catalog, employees, and commercial all in one. Often, even when you run a brick-and-mortar establishment, your website is the first thing your prospective clients see before they ever even consider stepping foot outside their homes. If your website doesn't have them sold before they leave the page, then that's one fewer customer that you'll receive. Today's Internet users visit a lot of websites every single day, and so expectations are higher than ever. If you have a website that's filled with eyesores or it's difficult to find what the customer wants, they'll quickly look for an alternative.
But attracting and retaining clients and customers isn't the only way that great web design can help you. Even if your website is only meant for internal employee use Net-Craft can help you increase your productivity and efficiency. Websites that are difficult to navigate, that lack properly password-protected areas, that possess an inadequate internal search engine, or that are clunky or even inoperable on mobile can all negatively impact how your employees use your website. Insufficient security can also expose sensitive records and documents to search engines like Google and Bing.
Discover What Sets Net-Craft Apart
At Net-Craft, our highly-skilled programmers know that web design is about more than just the visual aesthetic of your website. We know that your website should be a reflection of your company or brand's philosophy and mission. It should tell a story that draws in prospective clients, selling them on your products or service before they ever see a sales pitch or shopping cart. And we do it at an affordable so that every company can benefit from having a great looking website. So visit our website or give us a call today to find out why we're the Phoenix web design company that's best for you.