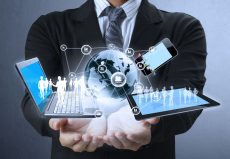 Custom Mobile App Development & Mobile Website Development Company
When it comes to mobile apps, there really is no one-size-fits-all solution. Every business is different, and your app needs to reflect how unique you and your business are. That's why at Net-Craft we'll work with you to create the perfect app for your business needs. We're the premiere mobile app development company in Phoenix, so you know that we can provide you exactly the service you need at affordable prices. Having a mobile app is more important for a business than ever, as more and more people use the internet on their phones. It's the best way to reach those eyeballs and bring them to your business, and a custom-built app will do that much more effectively than a basic software package you can buy as a template. Here are just a few of the services we provide as your top choice in a custom mobile app development company.
User Interface Modeling
Not only is it vital for your mobile app to be functional, it also has to be easy and convenient for your users. Especially on a small screen, careful design of your app's user interface is crucial, so we take great pride in our UI skills. Your users need to be able to access the information they want quickly and easily, with a design flow that makes intuitive sense. Not only do we bring all our projects through an extensive quality control process, but we'll also provide you with usable prototype apps at every step during development. That means you can try them out for yourself and make sure that everything is flowing exactly as it should.
Back-End Development
Of course, you do need more than just a flashy and easy to understand user interface for a successful app. You also need the functionality behind it, and that's another area where we're proud to excel. Our developers have mastery of all the native programming languages your app might need, such as C, Java, and Swift, as well as hybrid frameworks like React Native. Our engineers are fluent in all the tools you'll need to construct the perfect app. We also have highly talented programmers who are experts in database technology to optimize the flow of data from your app to the cloud.
Mobile Website Development
Our expertise doesn't stop at just app development. We're also pros at designing responsive and adaptive mobile websites, which is an equally integral aspect of your business's digital footprint. These days, about fifty percent of all internet traffic comes through smartphones, so it's more important than ever to have an optimized and easily usable mobile version of your website. It's something you need to consider right from the start as you're creating a website for your business. Our programmers are experts in mobile web development, and we're ready to use that experience to put your website over the top.
As your top choice for app development in AZ, we at Net-Craft are proud to offer these services and more for you and your business. We're pros at developing apps for both Android and iOS systems, and we can't wait to help you grow your business through technology.
Please contact-us today for a free app development or web site design consultation.