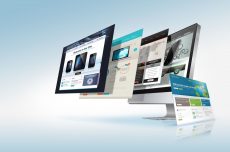 Custom Website Design & Development Services
In 2016, the number of websites on the internet crossed 1 billion. Today, only four years later, that number has doubled to 2 billion. That's an enormous statistic, and it goes to show just how much of an uphill battle it is these days to make your website stand out. In today's online world, your site needs to be that special one in 2 billion that grabs people's attention and turns them into customers. As the best web development company in Phoenix and Scottsdale, Net-Craft is uniquely positioned to help you create a custom website that will dazzle your customers and make your profit margin explode. We're an experienced and affordable web designer in Scottsdale, and our talented programmers can add any function to your website that you can imagine.
Why a Custom Website?
Having a custom website gives your business a number of advantages that you just don't get from a template service like Wix. One thing to keep in mind is that more than ever your website is a reflection of your reputation, and vice versa. A generic or poorly designed site sends a message to your potential customers that your business is a rinky-dink operation, while a fully planned and designed custom site tells the world that you're a successful and professional outfit. It also helps you tailor your website to your specific customer base. Every business is different, and as the premiere Scottsdale website design company we get that. Our programmers and engineers will work with you to develop the perfect site for your needs. We'll also provide you with support when you want to change things up, another service not offered by a basic template. The fact is, a well-designed custom website can elevate your business in a way that a generic site just can't. In today's world, this is absolutely vital to the success of your enterprise.
Services We Provide
At Net-Craft, we'll work with you from step one to create the website of your dreams. That means hooking you up with a project manager who keeps you updated on the status of your site at all times. Our developers will work together with you to design the flow and user interface of your website, making sure that it fits in with the rest of your branding. Our programmers are highly skilled and can also provide advanced functionality like content management systems, dynamic image galleries, HTML 5 enhancements, safe and secure eCommerce integration, and API integration. We also have expertise in responsive and adaptive mobile website design, which is becoming more important than ever. About half of all internet traffic now comes from smartphones, so mobile web design is an integral part of the overall process.
At Net-Craft, we have all the tools you'll need to make your website the one in 2 billion you need it to be. We're experienced and affordable, and we're eager to help you expand your business. Our talented engineers and programmers are ready to start working on your site today.
Please contact-us today for a free website design consultation.