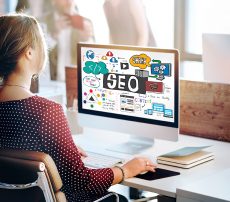 SEO KPIs to Help Search Marketers Plan Campaigns Better
Once you've created a cool website and invested time and money into content marketing, you'll then have to focus on developing buyer personas while zeroing in on your audience. All this requires a lot of effort, but it would go down the drain if you know nothing about measuring the success of your SEO and digital marketing efforts. Paying attention to SEO KPIs (Key Performance Indicators) can help you find an answer and take measures to get a better return on investment.
Organic Traffic
Among the most important metrics to gauge your SEO success is the quality of organic traffic coming to your site. You need to get back to the drawing board and make serious changes if you don't witness enough people visiting your site. But, be sure to consider how your organic traffic is trending while considering other performance indicators. A rise in organic traffic is useless if there aren't enough quality users, or signups or leads aren't following sessions.
MRR-Based Metric
To get an insight into how your site and SEO campaign is doing, pair monthly recurring revenue (MRR) with your organic traffic. It's important, though, to figure out the most suitable MRR-based metrics for your business and then use them with organic traffic for more accurate results.
Cost-Per-Click (CPC)
Using ads to promote your products and services is important, and CPC shows the money you'll end up paying for every single click on that advertisement. When starting your SEO campaign, your organic traffic won't give you a full picture of how much ROI you are getting. Measuring the average CPC will be of great importance here, as it makes it easier to set bids and pick appropriate keywords and match types while on a tight budget.
Click-Through Rate (CTR)
How many people view your ad is important, but it all comes down to how many clicks you get eventually. If you're not getting enough clicks and your CTR is not impressive, it's time to make some tweaks to your ad copy, so it becomes more relevant for the users searching for your targeted keywords.
Cost per Acquisition (CPA)
Getting information about the money you're spending to acquire one paying customer helps to know about the overall direction of your campaign. It's usually the most commonly used metric to optimize your campaign regularly, as it also factors in many other metrics to tell you how much money you pay for each conversion.
Return on Ad Spend (ROAS)
For each dollar spent on advertising, your business will make some revenue, and ROAS helps measure that amount. You can use this metric to quantitatively evaluate the overall performance of your ad campaigns and see if they're making enough difference to your bottom line.
These are some of the commonly used KPIs to help you get a better idea of how your SEO campaign is unfolding, but there are many other metrics too, including paid ones. It's not always possible to handle all the work by yourself; therefore, roping in a reliable SEO company is often the best bet. For that reason, you can put your money on Net-Craft, one of the best SEO solutions providers you can find today.
If you would like to review your current internet marketing strategy, please contact us for a free consultation.