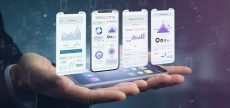 Building Mobile Apps with Net-Craft
Business expansion can be a tricky process to navigate all on your own, especially in the world of mobile app development. Luckily, Net-Craft is here to help you every step of the way! We've provided a list of tips and tricks to help you get started with your new growth:
Make Smart Improvements!
Stay on top of your game and the competitions with a look at a series of central metrics. Compare and contrast what others are strive for versus what your business may be lacking. You can decide for yourself, based on these numbers, what area your app is struggling the most with and plan your finances accordingly.
Streamline Your Distribution Process
Merge and simplify your apps size and release date with one easy to use feature! You'll stay organized and quickly release your updates to waiting clients without the complaint of slow downloads.
Properly Represent Your Product
Even if your app has been out for a while, you need to be sure that the information you display regarding it is the most up to date. Screenshots, videos, graphics, and other visual aids should be accurate to what your clients can expect from a current download of your application. Descriptions and other written notices should match the tone you wish to portray and be free of any grammatical errors. Use your best judgement to make the content work for you!
Stamp Out the Bugs!
Testing your app every step of the way is a good start to stamping out any possible issues. Early testing of a 'finished' project on a small scale of users will give you important insight with your client's expectations and how they will use the application. Lastly, release your updates in small amounts to limited individuals to test the fixes on a smaller scale before releasing to the entire populace. This will help you stay as accurate as possible and maintain good relations with you public.
Engage with your Supporters
Each review and rating made about your game should be seen as a chance to improve connectivity to your target audience. You don't have to adhere to their every whim, but simply thanking them and ensuring that their suggestions are under consideration will go a long way in improving your rating.
Bring Awareness Before a New Launch
Showing off the release of a new app well before its launch date is a great way to hype up your users and create a lot of buzz with app marketing! By release time, you'll have dozens of supporters downloading your newest success.
Maintain Your Software Development Kit (SDK)
SDK's are constantly changing for the betterment of all applications – it behooves you, and all other businesses, to maintain the latest updates and keep your apps current!
Learn a New Skill
We have dozens of tutorials offered to our users to better themselves and their apps. We love to help everyone grow and try new things – check out our latest trainings!
Keep in Touch
We want to ensure the best for your business and let you know of all the ways you can improve and grow. Make sure that your points of contact are up to date so that you can receive the latest information from Net-Craft.
Good luck with your current and future developments! If you would like to speak to one of our representatives about custom app development, please contact us today.