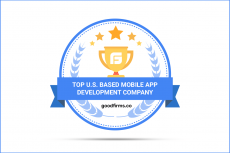 Net-Craft INC Rolls Out Robust yet Innovative App Solutions: GoodFirms
Delivering solutions at affordable rates to clients at national and international levels would soon bequeath Net-Craft as one of the leading mobile app development service providers in the USA at GoodFirms.
Overview:
Incorporated in 1999 and based in Arizona, Net-Craft.com Inc. is a custom mobile app and web developing service provider. It delivers various affordable internet services for businesses of any size, including custom web development, iPhone & Android app development, web support solutions, and results-based internet marketing.
In addition to this, Net-Craft employs a team of highly skilled search engine marketing and social media experts directed at delivering results-oriented internet marketing services at affordable prices. Net-Craft.com began as a full-service website development and internet marketing corporation.
When the iPhone sprung in 2007, the organization began developing mobile apps. By slowly annexing talented team members, Net-Craft's abilities have grown significantly. It is not only a trusted internet technology developer in Arizona but everywhere in the country as well.
GoodFirms' Research Process:
Piloting an unending list of service categories, validated reviews, and research papers to find the right business companion, GoodFirms, with its ground-breaking assessment method, appraises the registered businesses based on three criteria – Quality, Reliability, and Ability.
Likewise, GoodFirms has evaluated Net-Craft and concluded that the firm would soon be a leading company amongst the mobile app development and web development companies in the USA and globally at GoodFirms.
Mobile App Development:
Net-Craft offers flexible and affordable mobile app development solutions to meet clients' needs effectively and efficiently. The team develops apps that vary greatly depending on the features and functionality required by the clients.
The expert app developers' team does a short discussion or a few emails back and forth to estimate clients' projects regarding time and money. The experts' group will use their expertise and knowledge to help bring clients' app outlines to a development roadmap. They use web-enabled app prototyping tools to show the app screen flow in a web browser visually.
Moreover, the clients can see how their app will look and click on screens to test navigation before code is written, saving both time and money as the clients can make better-informed decisions about app features. Besides this, the professionals render native app development (Swift, Objective C, Java) and hybrid tools (React Native) when suitable.
Net-Craft's app developers include veterans in both front and back-end work. The development teams stay in continuous communication with the project managers to make clients aware of the status of their project at any time.
Thus, communicating with clients regularly to discuss project updates, open questions, and content needed would soon endow Net-Craft to thrive as one of the leading mobile app development service providers in the USA at GoodFirms.
Web Development:
Net-Craft develops custom websites that convert traffic into customers. The web design team produces websites designed to fit clients' businesses' exact needs and goals. Net-Craft has the artistic insight and expert technical skills to create websites of any size.
At Net-Craft, the expert web developers create online stores that run on any platform, including phones, tablets, and desktop computers. The designers will craft an easy purchasing experience for the customers, which ensure repeat business. The team integrates with all merchant systems, payment gateways, and database APIs needed to ensure your eCommerce store has maximum abilities.
Moreover, Net-Craft builds and manages small to high-scale WordPress platforms that receive millions of monthly page views. They handle plugin execution, core patch utilization, security updates, backups, and server maintenance. The WordPress development team also produces beautiful front-end designs and database applications.
The GoodFirms researchers believe that having such a proficient team of web developers producing feature-rich and elegant websites would soon facilitate Net-Craft to burgeon as one of the top website development service providers at GoodFirms.
About GoodFirms
Washington, D.C.-based GoodFirms is a maverick B2B research and reviews firm that aligns its efforts in finding the mobile app development and website development agencies delivering unparalleled services to its clients. GoodFirms' extensive research process ranks the companies, boosts their online reputation, and helps service seekers pick the right technology partner that meets their business needs.
About the Author
Anna Stark is presently working as a Content Writer with GoodFirms – Washington D.C.-based B2B Research Company, which bridges the gap between service seekers and service providers. Anna's current role lingers to shape every company's performance and key attributes into words. She firmly believes in the magic of words and equips new strategies that work, always with ideas, something new to carve, and something original to decorate the firm's identity.