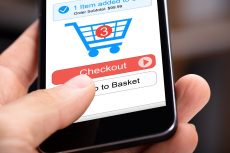 Optimizing Mobile Checkout for Happier Customers and More Sales
In business, they say go where the customers are. It's increasingly clear that in this day and age, customers are on mobile devices. That's where they're doing plenty of their shopping.
More than half of e-commerce traffic comes from mobile devices and yet purchase completion rates are much lower on mobile than desktop. If you want to convert those mobile e-commerce customers (and why wouldn't you when there are so many), you simply have to optimize mobile checkout.
So how do you do it? To make mobile checkout smooth and stress-free for customers, try these tips:
By design, mobile screens have less space than other devices. That means e-commerce sites need to utilize that space wisely. Any distractions or unnecessary elements could cause customers to abandon the process entirely.
The shorter the checkout form, the better when it comes to mobile. Incorporating autocomplete functionality can reduce the amount of work customers have to do to provide their information. Also, avoid pop-ups whenever possible since they only create unnecessary friction. Don't use too many colors, graphics, or drop-down boxes, either. Simplicity is your friend in mobile checkouts.
Show Customers their Progress
Adding a progress bar at the top of the checkout process can help customers get a sense of how close they are to finishing the checkout. They want to know how close they are to the end goal of buying your products and there's no reason not to let them know with a simple bar or percentage.
Understandably, businesses want to collect as much data about their customers as possible and contact information to keep in touch with them. However, as already established, the more information the customer has to fill out on mobile, the more likely they are to abandon their carts and buy nothing. Guest checkout options can increase the odds they'll complete a purchase. Plus, you can always offer the option for the customer to enter additional information after the purchase is processed, if they want to create an account then.
It may seem like an obvious step but many e-commerce businesses fail to test their mobile checkout processes. You don't want to lose out on a whole customer segment by forgetting to test so make sure you follow through.
You have two main options to complete mobile checkout testing. The first is testing software which will help you visualize and test your mobile checkout process on the major mobile devices. The second is heat mapping tools which show you what your mobile users click on in the checkout process.
Conclusion
Mobile checkout is an essential component of an ecommerce business. It's worth taking the time to optimize it using some simple tricks.
If you would like to learn more about our e-Commerce development services please contact-us today.