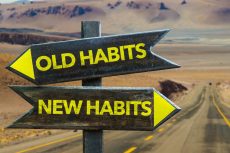 Four Daily Habits of Great Marketers
Becoming a great marketer doesn't have to be an impossible, far away task. Here are some of the top habits of great marketers that you can try to start improving your marketing abilities today.
1 – Setting Clear Goals
Setting goals is important for any professional but especially for marketers. Goals are essential for shaping the actions a marketer takes and helping them determine whether they have been successful.
When you're setting your goals, be as specific as possible. Use numbers, times, or any other concrete benchmarks you can so you know exactly what you're aiming for while you go about your day. Once you meet your goals, it's not time to slow down or stop. That's just an opportunity to set new goals and reach new heights.
2 – Keeping an Ear Out
Great marketers don't feel the need to reinvent the wheel. Sometimes the best thing you can do is just tap into wisdom and information that's already out there.
Keep up with relevant industry news to find out if there are any developments that could help you. Talk to colleagues and learn from them. Perhaps most importantly, listen to what your audience and the general public are saying whenever you can. Social media is one great source for this but you never know when you'll hear or read something that sparks your next great idea. Keep your eyes and ears open or you'll be missing out.
3 – Examining the Competition
The best marketers know there's nothing wrong with taking a good long look at the competition to make some comparisons. Ask yourself: What are my competitors doing well? How can I adopt or improve their strategies? Is there anything I'm missing?
Competitors are a great source of information and inspiration. The only way to truly know where you stand (and improve your standing) is to look at what the competitors around you are doing.
4 – Building Strong Relationships
Strong relationships are central to any marketer's success. Great marketers will do what they can every day to nurture their existing relationships and build new ones. How? By taking advantage of readily-available tools.
Social media marketing is one of the best relationship-building tools. You have lots of different platforms available to you where you can reach out to your audience and engage them. Post polls, answer questions, offer prizes, whatever you feel will keep your audience interested in the business.
Another simple but highly effective tool you should take advantage of is automated emails. Automated emails are efficient and inexpensive but keep the audience thinking about and engaged with the brand. For a more personal touch, send manual emails if that's possible for the scale of the company. These emails are opportunities to build upon relationships that were developed on your website or socials.
Final Thoughts
Everyone has daily habits but some are more useful than others. If you can find a way to incorporate these five habits of great marketers into your daily routines, you'll be well on your way to marketing greatness yourself.
If you would like to speak to one of our internet marketing experts, please contact-us for a free consultation.