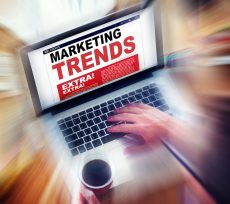 Top 5 B2C Marketing Trends to Look Out for in 2022
Marketing, especially internet marketing is a field that's constantly evolving. What works today might need tweaking tomorrow to remain effective.
To be at the top of your game, you need to stay up to date with what other marketers are doing to entice and retain customers. With that in mind, here are the top 5 business to consumer marketing trends that we expect to see in 2022.
1 – Community Involvement and Social Responsibility
The importance of corporate social responsibility (CRS) is certainly nothing new but this year, we expect it to be at the forefront of most marketers' minds.
Customers these days, especially Millennials and Gen Z, really prioritize companies with strong values. There's perhaps no better way for a company or organization to demonstrate those values than getting involved in their communities.
Supporting environmental causes, sustainability, and inclusivity are at the top of the list of things customers are expecting this year. Accordingly, brands are likely to commit a significant amount of their marketing efforts to these causes and other CSR programs.
2 – Short-form Video
With the incredible rise of TikTok, it's hard to deny the power of short-form video at this point. Other social media platforms like Instagram (with Instagram Reels) and YouTube (with YouTube Shorts) have gotten in on the action, too, which presents a wealth of opportunities to marketers.
Short-form videos allow marketers to reach consumers with easily-digestible, enticing content. Plus, short-form video campaigns have one of the highest returns on investment for B2C consumers, only behind influencer marketing.
If you're not already investing in short-form video content as part of your marketing efforts, you'll soon fall behind the rest of the B2C marketing teams. It's one of the best ways to connect informally with your audience and make that connection count.
3 – Influencer Marketing
You can't talk about modern marketing efforts without acknowledging the popularity and impact of influencer marketing.
What's better than a tailor-made ad for a company delivered by someone the audience feels like they already know and trust? The answer is basically nothing.
Influencer marketing gives brands and marketers a direct line to large groups of their target audiences. For that reason (and others), it has an incredibly high ROI and is sure to be a top strategy for B2C marketers this year.
When marketers find the right influencers to partner with, influencer marketing has the potential to boost a company's profile in a big way.
4 – Audio content
As mentioned, video content is a very valuable tool for marketers but don't underestimate audio content, either. Audio has been sneaking up on video marketing content as the leader in content marketing and for good reason.
Podcasts are booming. It seems like everyone is listening to a podcast about something that interests them so it's no surprise that marketers see an opportunity there.
Plenty of 2C and B2B marketers alike are planning to up their investments in audio content this year. That trend will probably continue for years to come, too.
5 – Hybrid Events
It may not have been the best of circumstances that brought about a rise in hybrid events but marketers did learn something valuable. Hybrid events are doable and even come with some significant advantages over live events (though some obvious drawbacks, as well).
Hosting a hybrid event allows companies to connect with their audiences in a convenient, engaging way. The virtual component may make getting great speakers involved easier than ever and a hybrid format allows for some flexibility. In a still uncertain world, hybrid events are going anywhere, at least for now.
So keep an eye out for these top 5 B2C trends in 2022 and maybe consider implementing some of them yourself!
If you need help with web development, app development or internet marketing, please contact-us today!