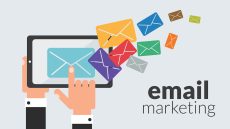 Top 10 Email Marketing Tips for Higher Open and Clickthrough Rates
Accumulating a solid email list is the first hurdle in email marketing. Getting your customers to actually open and click through those emails once they're on your list is an entirely separate task.
Here are some tips for achieving improved open and clickthrough rates on your marketing emails.
1: Optimize Emails for Mobile
Simply put, if you aren't optimizing your emails for mobile devices, you're missing out big time. People open the majority of emails on their mobile devices. Make it easy and accessible for them!
2: Avoid Purchasing Email Addresses
Some people think that boosting their email list can be as simple as purchasing emails. Don't do it! Yes, buying emails will boost your list but it won't help your email marketing campaigns. The people on the other end of those email addresses aren't especially likely to be interested in your content.
3: Email New Contacts Quickly
Once someone signs up for your email list, an offer, or your newsletter, you have a limited window to take advantage of the fact that your brand is on their minds. Try to email new contacts within 24 hours of getting their email. This will set the tone for interacting with that contact and hopefully be the start of a long-term relationship.
4: Keep Emails Short and Sweet
These days, everyone gets a million and one emails a day. If you want your emails to stand out and actually be read by recipients, you need to keep them short and sweet. A massive block of text is going to get ignored by most of your email list. Break up long paragraphs with images and line breaks. The emails should be scannable and have a clear focus so readers can get the key message quickly.
5: Send Emails from a Person, Not a Company
It may be tempting to sign all promotional emails for your company something like "the team at [your company name]" or simply "from, [your company name]." A better idea is to send emails from a real person at your company. Email recipients like to see that a real person is sending the emails they get. It increases trust and the clickthrough rate.
6: Focus on the Subject Line and Preview Text
While the body text of the email should be your main concern, don't forget to spend some time crafting a strong subject line and preview text, too. If you don't do anything to the preview text, it will automatically be set as the first words of your email. That's a missed opportunity to craft something more engaging that gets customers to open the email. Ditto with the subject lines. Make them clear with action-oriented words that leave customers wanting to learn more.
7: Include a Strong Call-to-Action Button
Every email should serve a purpose. It should prompt the reader to do something. That's where a call-to-action button comes in. Make the button easily visible and with a phrase that offers real benefits to the readers.
8: Include Obvious Links
If you want your readers to click on things in your emails, you need to make it easy for them. In addition to a great call-to-action button, include several obvious links in your emails. That way, readers will have plenty of ways to interact.
9: Test and Preview Emails Before Sending
You wouldn't sell a product without testing it, would you? You should send emails without testing or previewing them, either. This is the time to find any problems and correct them before the emails arrive in customers' inboxes.
10: Monitor Email Performance
Email campaigns, like any campaigns, should always be a work in progress. You need to monitor the performance of each email to learn what works and what doesn't and then make adjustments.
Final Thoughts
By using one or more of these tips, you can significantly increase the clickthrough and open rates of your email marketing campaigns.
If you would like to chat with one of our internet marketing specialists about starting or improving an email marketing campaign, please contact-us for a free consultation.