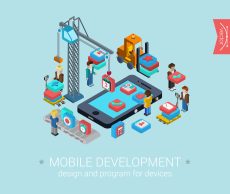 Top 6 Trends in Mobile App Development 2022
Mobile apps are everywhere these days. With more than 5 million apps available on the Apple App Store and Google Play store, it's safe to say mobile app usage is very high. That's why keeping up with mobile app development trends is so useful for companies. Here are the top 6 trends in mobile app development for 2022.
1: Integration of Augmented Reality
The incredible popularity of apps like Pokemon Go proved that AR had a strong future as a part of mobile app development. In 2022, more and more mobile app developers are incorporating augmented reality features into their apps. For example, Ikea uses AR to enhance the user experience by allowing users to visualize how furniture will fit in their homes before they buy anything.
2: Focus on Security
Downloading a malicious mobile application can have disastrous consequences on an organization. That's the reason why many businesses are shifting to put more focus on cybersecurity. To meet that demand for enhanced security, mobile app developers are increasing their efforts to make their apps secure.
3: Wearables
Wearable devices like smartwatches have had a meteoric rise in popularity. The number of connected wearable devices is projected to reach more than 1 billion worldwide by the end of 2022. To keep up with this growth of wearable, mobile app developers are shifting to focus on creating apps that integrate perfectly with wearable device use. Apps that work well with wearables will have a distinct edge over those that do not in the coming years.
4: Blockchain
"Blockchain" became a commonly used term when cryptocurrency exploded onto the scene but it's also applicable to mobile app development. The global blockchain market is growing and set to hit around $20 billion in 2022 so it makes sense for app developers to want to get in on the action. When it comes to apps, blockchain is especially useful for mobile wallets and tracking digital assets.
5: Mobile Wallets
On the subject of mobile wallets, this is yet another powerful trend in mobile app development in 2022. Mobile wallets like Apple Pay and Google Pay have grown in popularity in recent years and that growth is projected to continue over the next few years. Businesses have the opportunity to tap into the mobile wallet market and incorporate mobile payments for added convenience for their customers.
7: 5G
5G technology isn't brand new but companies are pushing 5G and 5G-enabled devices more than ever. That has huge effects on mobile app development, especially in terms of speed and efficiency. To keep up with the growth of 5G, app developers will need to make sure that their apps can meet the speed and efficiency expectations of mobile device users. Otherwise, they risk losing out on potential customers.
Final Thoughts
Trends in mobile app development like AR and wearables will be huge this year and probably for years to come, too. Keep these trends in mind to make sure you don't miss any valuable opportunities.
If you would like to chat about an idea you have for a mobile app, please contact us today for a free app design consultation.