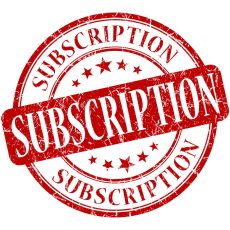 Making Money with Subscription-Based Apps
In recent years, monetizing an app with a subscription-based model has gained traction. App creators make money by charging app users a monthly rate for access to services (Netflix) or access to premium services (Tinder.)
If you want your customers to pay their subscription fees month after month, you must keep improving your offerings and execute them well. If you are considering launching an app any time soon, you should know the pros and cons of the subscription-based model.
Pro: The Revenue Can Be Great
​​Apps with subscription-based business models typically generate more money per user than other types of money-making apps. According to Sensor Tower, $13 billion was generated in 2020 from the top 100 subscription apps alone.
Pro: Monthly Subscriptions Means Reliable Income
Subscription-based apps allow companies to forecast their monthly revenue, allowing more confidence in their cash flow. Adjustments can be made as subscribers are added or dropped, making it easier to plan for upgrades and enhancements. This is especially true for those that lock in longer commitments by offering discounts for those customers willing to stick around for six or 12 months.
Pro: Apple Approves of the Business Model
Since 2016, Apple has been rewarding subscription-based apps by offering a better revenue split. Normally, Apple offers a 70:30 split to its developers, but subscription-based apps can see an 85:15 split.
Con: You Need to Constantly Keep Things Fresh
Users will have higher expectations than they would have for a one-time app payment because they are paying a recurring price. You have to consistently offer your users fresh stuff. To entice your paying clients, your app needs to be reliable, and you'll need to keep adding attractive new features.
Con: Your Support Will Need to be Top-Notch
When users sign up for a single-purchase app, that transaction is likely to be the last time they have any communication with the developer. However, monthly subscribers will expect solid service to go along with their monthly fee. Although support teams can be expensive, they are indispensable. Subscription apps attract more engaged and active users, and your team needs to be ready to enhance their app usage.
Con: Transitioning Your App May Not Go Over Well
If you initially launched your app as a free product or a one-off purchase, transitioning your current users to a subscription model will not go over well. You can expect a substantial amount of backlash and a string of unhappy reviews.
Is It Worth The Work?
In the end, subscription-based apps provide a very strong and consistent revenue stream, which is appealing to many app creators. The business model has numerous advantages, but it also comes with its fair share of challenges. To actually make this model work for you, you'll need to make sure you can consistently offer new features, continue to provide original content, and give your customers first-rate support. If you can give your customers what they want, you can expect to make consistent, predictable income for as long as you can keep it relevant.
If you have questions about app development, please contact us, we would be happy to chat with you.