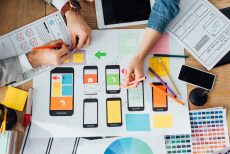 The Future of App Development
With a huge number of new apps hitting the market, it is safe to say that the app market will continue to grow well into the future. Along with this growth, there will also be an increase in users and a lot more revenue to be made from spending and downloading the apps.
In fact, it is believed that the number of apps is expected to surpass 250 billion. So with an increase in the number of apps, the revenue they create is expected to reach more than $160 billion.
The Mobile App Market is Revolutionizing the World
The mobile app has come a long way since its beginnings and it seems like you can find them everywhere. This is because you can and the app world is not slowing down. With mobile technology continuing to grow, there seems to be no end in sight. The number of mobile apps that are appearing are so vast that the desktop is starting to become obsolete as the consumer has begun to turn to their smartphones in order to obtain what they need online or to conduct purchases.
Besides making purchases easier for consumers, the app also helps a company to be reached globally without having to be in the area. This makes the shopping experience even more extraordinary for the consumer because they do not need to go to a physical store. Not only is this good for both the customer and business, but the business is able to obtain customer specific information that would have been unavailable elsewhere.
Businesses have also been altered in the way each acts towards each other. The app can become a company's platform in order for companies to share customer information and collaborate on different occasions.
The Amount of Time Spent on an App is Profound
The amount of time that a consumer spends on an app should be reason enough for a business owner to develop an app. Also, as an app is developed you need to keep the app engaging so that a customer stays connected longer. This also means that you are providing the consumer with an easier method to buy from you.
The Advantages and Disadvantages of a Mobile App
When it comes to the advantages and disadvantages of developing a mobile app, there is a lot to bolster about.
Advantages
You allow for easy access through the appropriate device operating system
App can be updated when you want
The user experience is enhanced
The impact on your business is huge
You allow for mobile shopping
Disadvantages
The app will have limitations
They can quickly drain a battery
Your development's long-term investment must be worth the effort
The initial development costs may be high
Marketing your App
After your app has been developed, marketing needs to begin. This is when your business's creativity needs to shine in order for marketing efforts to be effective. If nobody knows about your app, then there will be no way for you to know if your app is as good as you say it is.
Many marketing methods exist. The best way to begin is to share it through social media. This means you should have a ton of photos of the end product on Instagram, Facebook, and Snapchat. You can take your marketing one step further with advertisements within the app. YouTube is an effective platform if your budget is able to afford it. No matter how you market, the point is to keep the marketing efforts active.
Start your App Development Today
The world of mobile apps continues to shape the world. However, the business world has continued to expand on the app idea for business purposes. This allows the customer to have an individualized interaction.
If you are looking for mobile app development services, please contact-us today for a free consultation.