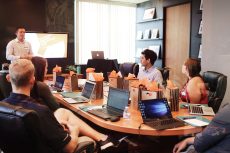 How Custom Mobile App Development Can Empower and Grow Your Business
In today's mobile-first world, businesses of all sizes are recognizing the importance of having a custom mobile app. A well-designed and developed mobile app can provide a multitude of benefits, including increased brand awareness, improved customer engagement, and enhanced sales and revenue.
Benefits of Custom Mobile App Development
Enhanced Brand Awareness: A mobile app provides a direct channel to reach your target audience, showcasing your brand's identity, products, and services. It can be used to promote special offers, send push notifications, and build a loyal customer base.
Improved Customer Engagement: A mobile app allows you to interact with your customers on a more personal level, providing them with easy access to information, support, and exclusive offers. This can lead to increased customer satisfaction and loyalty.
Increased Sales and Revenue: A mobile app can be used to boost sales and revenue by providing a convenient and secure way for customers to shop, make payments, and manage their accounts. It can also be used to promote special offers and discounts.
Streamlined Operations: A mobile app can automate tasks and processes, saving time and money. It can also be used to improve communication and collaboration among employees.
Competitive Advantage: In a competitive market, having a custom mobile app can give your business a significant advantage. It can help you stand out from the crowd and attract new customers.
Custom Mobile App Development in Arizona
If you're considering developing a custom mobile app for your business, there are several reputable companies in Arizona that can help you. These companies have the expertise and experience to develop high-quality apps that meet your specific needs and requirements.
Phoenix App Development
Phoenix is home to a thriving tech scene, with many companies specializing in mobile app development. These companies can help you develop an app that is tailored to the needs of your target audience.
Best App Development Company in Scottsdale
Scottsdale is another major tech hub in Arizona, with several award-winning app development companies. These companies can help you develop an app that is both innovative and effective.
How to Choose a Custom Mobile App Developer
When choosing a custom mobile app developer, there are several factors to consider, including:
Experience: Choose a company with a proven track record of developing successful mobile apps.
Expertise: Make sure the company has the expertise to develop a app that meets your specific needs and requirements.
Communication: Choose a company that is responsive and easy to communicate with.
Cost: Get quotes from several companies to ensure you are getting a fair price.
Conclusion
Custom mobile app development can be a powerful tool for empowering and growing your business. By working with a reputable app development company, you can develop a app that meets your specific needs and requirements and helps you achieve your business goals.