Diary of a Fit Mommy Exercise App
The Stronger app was created for popular Fitness influencer and NASM certified personal trainer Sia Cooper. Sia connects with over 1.5 million followers via her social media channels. Sia wanted an Apple and Android app that would allow her fans to follow her daily exercise programs.
The Stronger app allows users to participate in a free trial and subscribe to the app via IAP (in-app purchase) follow customized workout programs that includes custom warmup and cooldown options, create meal plans and shopping lists based on custom nutrition macros, integrate their workout schedule with their phone calendar, take before and after photos to track progress that also includes the ability for users to create and share photo collages. A community section allows users to chat with other users and Sia herself.
App Feature List:
Apple & Android versions
Facebook & Google integration
Google Calendar integration
IAP Subscriptions
Community forum and messaging
Camera integration
Nutrition macro calculator
Water tracker
Reminders
Progress tracker with photos and measurements
Custom CMS for user and content management
Google Fit integration
Spotify & Apple Music integration
Custom workout plans
Push notifications
Meal tracker and shopping list
Recipe database
Education section
Save to favorite capability
LISS and HIIT timers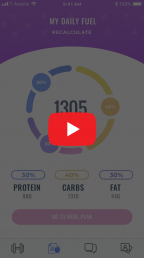 Diary of a Fit Mommy
Great team of workers for any project, big or small. Proud of the app we have built in a year and cant wait to continue work with this amazing crew of creative thinkers.