LimoDad Limousine Ridesharing App
The LimoDad app can be thought of as the Uber for the limousine industry. The LimoDad app allows riders and independent limo drivers to connect with one another. Trips can be scheduled, paid and rated all through the app.
App Feature Summary
Apple & Android versions
GPS integration
Payment integration
IAP
Custom CMS for user and driver management
Real-time tracking
Push Notifications
Robust in-app messaging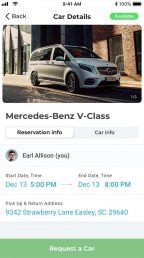 LimoDad
Employees at Net-Craft work as a team. A very complex project like mine needed a team effort and I found Net-Craft to be a perfect fit to it. I am always amazed by their creativity to make my project more valuable above and beyond what I initially anticipated.