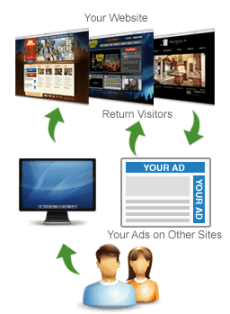 How Remarketing Works and Why it's a Great Way to Boost Sales
A remarketing campaign allows you to tap customers that have visited your site in the past so that you can advertise to them again and bring them back for more. Remarketing is a feature that will revisit each potential customer that visited your website with a polite reminder that they are interested in a particular item or page of your website. By using remarketing, the next time that visitor fires up the Internet and browses another website, whether they use Google search or browse through social media, an ad will be displayed that links back to your site. Since many customers need to see a product multiple times before they decide to buy, this can help remind your customers of items they may still be considering buying in the future.
What is Remarketing?
Remarketing is a unique feature created for websites that offers the capability to reconnect with people who have previously visited the site. This tool displays advertisements to past visitors based on pages or products the customer has previously viewed. Remarketing is commonly used on social media sites like Facebook as well as websites that feature advertisements like online magazines or other publications.
How it helps
Remarketing works by placing a tracking code onto a website that logs the identity of users visiting the site and relays that information to the Google Display Network. The next time that person visits a site which has opted in to advertise through Google, he or she will see an ad for items and sites they have previously viewed.
Why You Should Use Remarketing
The use of remarketing is an efficient, cost-effective tool when looking to drive sales activity on a business website. Remarketing helps you retarget and promote items your customers have previously viewed, and you can also provide incentive for them to return to your online store by offering a discount, free shipping, etc. By using remarketing, you can counteract the number of people who abandon their shopping cart and keep your business top of mind. You can also use remarketing to promote specials, deals, discounts, and even membership deals.
Please contact us for a free internet marketing consultation and learn how remarketing can help you reach more customers.