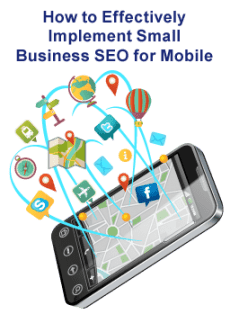 How to Effectively Implement Small Business SEO for Mobile
Make the most out of your mobile capability by positioning your small business highly in local search. High rankings for local search shows credibility and can give you the ability to increase your leads as well as your profits.
There are still several businesses out there that are not mobile friendly. If this is the case for your business, it is best to either set up a mobile-specific site or to at least offer a responsive website that will adjust based on the user's device.  Regardless of which option you choose, make sure each page reacts with an appropriate redirection to the corresponding mobile page.
Modify Your Marketing for Mobile Users
When introducing your site to mobile users, keep in mind what these users want and need. Be particular and considerate of your ad placements, links and even clickable items such as a contact number. Put yourself in the mobile users' shoes to best understand what these needs are.
Mobile Keywords
When you select your choice of mobile keywords, take heed in noting that location-based terms that point to buyer intent happen to be the highest converting keywords. Location based terms tend to generate the greatest ROI of all.
Dedicate Your Site to Mobile
Opting for a website that is dedicated to mobile users will involve building a certain structure in terms of writing content that can be easily scanned. Keeping your content shorter with several navigational options and more headings will better allow for the content to be shared with a mobile user.
Mobile SEO and Link Building
A thorough link building campaign typically focuses on building location specific links and citations. Location specific links and location specific citations are helpful for positioning your mobile site so that you can be found easier by the mobile user.
Mobile SEO Wrap Up
The mobile strategies above will provide a quality foundation for any small business looking for a way to generate more mobile business. By thoughtfully placing ads, using proper keywords for local search and utilizing location specific links and citations, businesses can boost ROI, increase leads and skyrocket profits.
Contact-us today for a free no-obligation consultation with one of our marketing consultants.