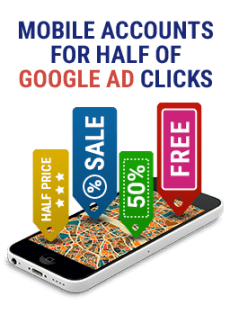 Mobile Accounts for Half of Google Ad Clicks
Trends rise and fall with each coming year, and it is of utmost importance for businesses and business professionals to take proper note of these up and coming trends in order to predict the market shift. Being prepared to take advantage of these trends keeps business professionals on their toes and ready to face anything.
A recently released report by Merkel/RKG which was titled "Digital Marketing Report Q4 2014" states that paid search surely pays off in the long run. This report breaks down the ROI in detail of organic search and social, display advertising, paid search, as well as comparison shopping engines.
The report shows that vendors in a variety of verticals experienced an increase in ROI related to PPC spending, and that much of the PPC traffic they received was attributable to mobile. An average of 40% of clicks to websites recorded from PPC came from a mobile or tablet device.
Mobile devices knocked it out of the park with paid search, showing tablets and phones accounting for 45 percent of traffic on two of the most popular holidays – Christmas and Thanksgiving. All in all, there was 39 percent of paid search traffic in Q4 gathered by mobile devices as a whole.
If you would like a free consultation with one of our mobile internet marketing specialists, please contact us today.