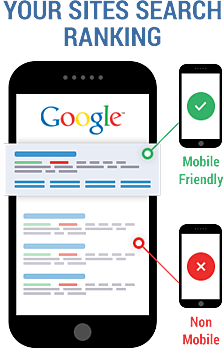 Google Gives Mobile Sites a Ranking Boost, Penalizes Others
Recently Google made important changes to the way it ranks your web site. Put simply, if your site has a mobile or responsive version your ranking will improve or remain steady while those web sites without a mobile version will be penalized. The rankings that are impacted are those searches done on a mobile device. Since mobile searches have overtaken desktop searches the importance of this cannot be overstated. It is now of paramount performance that your web site has a mobile version or has a responsive design so that itsformat changes when it is viewed on a smartphone.
If you want to see if your site to see if it is mobile friendly, you can test it out here: https://www.google.com/webmasters/tools/ mobile-friendly/
>> VIDEO: What is responsive web-site design?
If you would like to discuss creating a mobile web site for your business, please contact Net-Craft.com for a free mobile web site estimate.