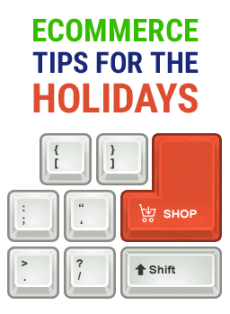 Ecommerce Tips For The Holidays
When you are optimizing a website to sell goods online during the holidays, there are a few ways to optimize your product pages, increase conversions, and eliminate problems your visitors may experience during the buying process. During the holidays, often the busiest time for online sales, you want to make the buying process seamless so you can sell the most product possible.
There are several ways to prepare your site for the holiday season which can increase your sales and reach more customers in the process.
Optimize Your Pages
Customers are looking for a simple buying experience, especially during the holidays when shoppers are often stressed and visiting multiple sites during one internet session. If your site is unresponsive or loading slowly, a potential customer could turn into just another bounce rate statistic. There are several third-party tools available that will analyze your site, including its load speed, so you can make adjustments on the fly; however, simply testing the usability of your site can reveal small issues you may have otherwise missed. By decreasing page load times and making small adjustments to coding errors and slow-loading JavaScript, you enhance the usability of your ecommerce site for your customers, ensuring a pleasant browsing experience and more sales.
Make It Social
The holidays are a time for sharing, and customers share wish lists and product details at an alarming rate during the season. Ensure that your site contains sharing links that are easily accessible to your customers. This makes sharing your products easier, and increases the potential for your products to go viral. You also want to pay close attention to your social profiles during this time.Facebook, Instagram and Pinterest are excellent social media platforms for promoting products during the holidays, and adding your products to these sites can increase your holiday sales tenfold.
Invest In Creative Content
Now that you have your site optimized for usability, it's time to invest in content that makes your ecommerce store stand out. Begin writing blog posts or interesting articles about your product that your customers can share, expanding your store's reach online. These articles can range from helpful guides relating to your products to fun tips and tricks your customers may find useful. Content marketing is a powerful and often underused marketing tool, so invest time in creating thoughtful content that your visitors will love.
Contact Net-Craft.com today to schedule a free ecommerce consultation.