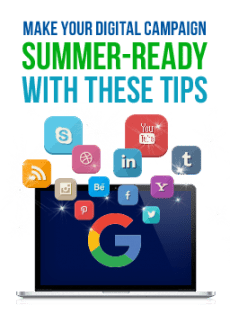 Make Your Digital Campaign Summer-Ready with These Tips
Many business owners and marketers are used to the "set-it-and-forget-it" model of creating PayPerClick campaigns: you create your campaigns, performing your initial keyword research, optimize your site, and you never look at it again. Below you'll find some tips on how you can revitalize your campaign with a few simple steps to get ready for Summer so you can focus on your business and feel confident that your digital campaigns are in top shape.
1. Cut The Fluff
A great way to boost your search rankings is to perform regular keyword analysis–and what better time to do that than Summer! Examine your keywords lists for poor-performing terms and do additional keyword research, if necessary. Keep an eye out for keywords that aren't relevant to your campaign–it's easy for these keywords to accidentally end up in your keyword lists.
2. Take Time to Plan Ahead
Summer is a great time to plan all of your campaigns for the rest of the year; whether that means creating content calendars or keyword research for several campaigns at once is up to you. Planning for the year ahead ensures you won't end up scrambling for new content in November or using irrelevant keywords throughout the year.
3. Do A Conversion Analysis
Are you site conversions dropping? Maybe you have noticed a decline from the beginning of the year in conversions, and you aren't sure what's causing the drop. Summer is the perfect time to analyze your conversions and figure out what's causing your visitors to bounce. A good way to start is by combing through your entire site, focused especially on the checkout process if you have an e-commerce platform, and make sure everything works as it should. Your conversions could be dropping simply because your visitors are getting hung up on one aspect of the checkout process.
For more tips on conversion optimization and measurable results, please contact-us today.