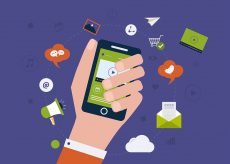 Optimizing Your App Store Keywords
Selling apps through the iOS App Store can be a great way to make a little extra money, and if you do well enough, it could even become your full-time career. However, you have to do more than simply create an amazing app and upload it to the store. You also have to make certain users can find your app. Users still spend a lot of time searching for apps—more than 65% of users search the store before downloading an app. However, there are more than two million different apps in the store, and that number is increasing daily. If you haven't optimized your app keywords, your app is likely to be buried.
You only have 100 characters for your app description, so every one of them counts, and having a great App Store Optimization (ASO) strategy is vital to doing so. You need to focus your strategy on two areas: Discoverability and Conversion.
Discoverability relates to how easy it is for someone to discover your app. An app is discoverable if it uses the right keywords, is in the right category, is performing well within that category, and is featured on the main screen of the iOS Store.
Your conversion rate is how many people download your app once they find it. This has to do with presentation as much as it does with your app itself. Do you have a good icon? Have you used interesting screenshots and strong text to describe your app? Do you have good reviews? All of these things affect your conversion rate.
Keywords
As with any type of online business, everything comes down to keywords. Figuring out the best keywords for your app will take some experimentation. However, to start with, you want to look for keywords that are both searched often but are not difficult to rank in. Some keywords are so common or are so dominated by established apps that it would be very difficult for your app to appear as one of the top ten results for that keyword. On the other hand, some keywords get so little traffic that very few people will see your app even if you're ranked number one.
The goal is to find a keyword that is searched often, but is also easy to break into. This isn't easy to find, so be prepared to do some research on your niche. Fortunately, there are a number of tools out there that can help you determine which keywords fit these criteria. These tools can then help you tweak your description until it's performing at its best.
Our app development services do not end when the project is complete. From app marketing, app maintenance and ongoing support, contact Net-Craft for a free consultation.