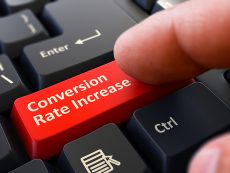 Get Rid of these Conversion Killers to Boost Sales on Your E-commerce Site
As an online entrepreneur you know the amount of work it takes to generate leads and bring traffic to your online business.
Converting this traffic to customers who buy products from your e-commercesite, is the next big step you need to take to maintain profitability and keep your business running. Enhancing conversions can be a complicated and confusing exercise. In this article,we look at some of the critical areas of your e-commercesite you can improve for the greatest impact on conversions.
Poorly Designed Website
Some studies indicate that more than 55% of shoppers visiting an e-commerce site will abandon the process if the site is cumbersome and the process exhausting. This underscores the need for a properly designed website that can load fast and display all elements of the website properly.
There are two main issues with your website that may be pushing customers away; one is that it may be difficult for shoppers to find the products they want, and two your website navigation system is poor and this encourages shoppers to click away.
When it comes to website design there are several things you need to check:
Navigation: Ensure that the navigation is intuitive and the links are working
Categories: Ensure that the products are properly categorized so that shoppers can find them quickly.
Checkout: Make the checkout process as simple as possible, avoid annoying pop-ups that promote additional products and services.
Forms: Avoid long forms that can discourage shoppers. You can split long forms into smaller manageable sections.
Low-Quality Images
In an online store, customers are not in a position to personally examine the products. However, images and videos can give them an idea of what they are buying.
Avoid poor quality images as they communicate low standards to the customer. Ensure you use original and high-resolution photos to showcase your products. Avoid using generic images which do not accurately represent the actual product.
Failing to Establish Trust
On the internet shoppers often look for certain clues to determine if an online store can be trusted. The things they look for are significantly different from what one looks for when making a purchase in a brick and mortar business.
Your website should have the following things to establish trust with shoppers:
Testimonials: Add testimonials to your website. This reviews and testimonials can include those from reputable websites such as Yelp and Google reviews.
About Us Page: Have a page with a compelling story about what your business is about and why you started it.
Press Section: Having a section on press coverage can boost the credibility of your online business.
Contact and Location: Have contact and location information on an easy to find a section of the site.
Not Mobile Friendly
Another reason you are not getting good conversion rates is that your website is not mobile friendly. Statistics show that more than half of e-commerce sales are now being made through a mobile device. If your site has not been designed to work with portable devices, shoppers may be finding it difficult to complete the process and this leads to a high bounce rate. A good responsive website design is affordable to implement and can work on virtually all portable devices.
If you would like to speak to one of our web site professionals, please click here to schedule a free consultation.