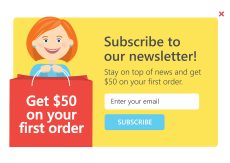 Everything You Need to Know About Exit Intent Popups
Getting visitors to your site is no easy feat, but keeping them there is even more difficult.
On average, customers only spend 54 seconds on a webpage before clicking away. Using exit-intent popups is one way to try and get them to stay longer.
Here's what you need to know about these game-changing lead generation tools.
What are Exit Intent Popups?
Exit intent popups are alerts that show up on a customer's screen right when they're about to leave your site. The popups usually contain a message or offer that's meant to entice the visitor to stay on the page.
Common offers included in exit intent popups are free trials or coupon codes. The message in the exit intent popup will prompt your visitors to stay and take advantage of the offer through a strong call to action. Hopefully, they'll take the offer and convert rather than leaving the page.
Generally, exit intent popups work by tracking the customers' cursor movements to determine when they're about to exit off your site. You can also apply an exit intent popup strategy to mobile devices, though. Some actions that you can set to trigger popups on mobile include scrolling up or pressing the back button.
Benefits of Using Exit Intent Popups
The potential benefit of using exit intent popups is clear– keeping visitors on your site longer.
More specifically, exit intent popups can reduce your cart abandonment rate. Cart abandonment costs e-commerce brands $18 billion in sales revenue each year. Cutting down on how often your customers abandon their carts with exit intent popups could have an incredible effect on your bottom line.
Exit intent popups are also less distracting than many other popups since they only appear to people who are going to leave the site. That way, you don't bother customers who are happily browsing your site or buying something.
How to Create Effective Exit Intent Popups
Simply having exit intent popups isn't enough to reap these benefits, though. You need effective exit intent popups. These strategies will help you craft exit intent popups that make a difference.
Keep it short and sweet. An exit intent popup is not the time to bombard someone with blocks of text. Make your message simple and get straight to the point so your visitors don't lose interest.
Use a clear CTA. Your CTA should make your offer clear and obvious to entice viewers.
Choose a strong image. The image included with your exit intent popups should be eye-catching and complement the message.
Take the time to test. You're probably not going to make the ideal exit intent popup on your first try. Using A/B tests can help you determine which popups work and which you should scrap.
Try a game. Your popups don't have to be simple text and images. You can also try exit intent popups that include an interactive game like a spinning wheel of discounts.
Final Thoughts
If you want to increase the amount of time visitors spend on your site (and why wouldn't you?), exit intent popups are a simple yet effective tool. Use these tips to craft some exit intent popups that impact your business.
Please contact-us for a free estimate if you would like to speak about integrating an exit pop-up or if you have any internet marketing questions.