Black Girl Motivation
Social media app
Black Girl Motivation is a mobile app developed for Apple and Android phones. The app is built to provide Black Girls and Women with inspiration, empowerment and motivation through pushed daily messages.
App Feature List:
Apple & Android versions
Facebook, Apple & Google integrations
IAP Subscription
Push notification
Push notification scheduler
Custom CMS for user and content management
Apple watch integration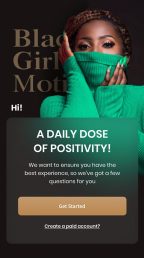 Black Girl Motivation
From the moment I met with Net-Craft they were transparent, they listened to my requests, provided expert feedback and I know my app wouldn't be as successful as it is today without his partnership. I am so thankful to have come across Net-Craft. The professionalism, attention to detail and correction even when they may have made mistakes are unmatched. I told them we now have a lifetime partnership because I trust their team and the work they deliver. I highly recommend anyone looking to build a mobile app to make the investment with Net-Craft you will not be disappointed.