A few of the features of Top Dead Center:
Search for shops that have experience working on your specific car.
Filter for services, vehicle type, ratings, and other criteria.
Write detailed reviews to help other car enthusiasts make informed decisions.
Interact with other users to learn more about different shops.
App Feature List
Apple & Android versions
Facebook, Apple & Google account integration
Google Maps & Google reviews integration
In-app messaging
Camera integration
Custom CMS for user and content management
Coming Soon on Apple iTunes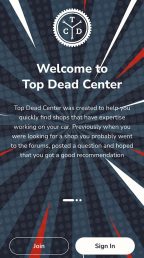 Top Dead Center
Net-Craft did what they said they would do at each instance, and demonstrated good project management abilities in keeping my app's development on track. I am pleased to date with the end product.