Flashpath Dental Flashcards
Flashpath is an Android and Apple app that allows dental professionals to review oral pathology flashcards and discuss unique cases they have experienced. Dentists, periodontists and other oral related disciplines can enhance their skills by reviewing the ever growing database of cases posted. Individual cases can also be shared to non app users.
App Feature Summary
User registration
User messaging
Photo upload
Text search
Clipboard integration
Multiple user accounts
Camera integration
App Animation
IAP / Recurring In-app purchases
App security
Database integration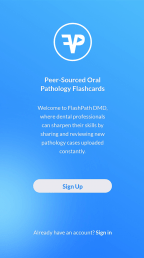 FlashPath
My app is awesome and exactly what I wanted! The Net-Craft team are true professionals. The programming team is technically skilled and were able to make the complex parts of my app function correctly and they wouldn't rest until they did.  They were infinitely patient with all my needs and made sure everything worked the way I needed it to, even when I took long breaks in between active work in the app due to both a family tragedy as well as my new baby.  They did a great job getting my app (Flashpathdmd) approved by Apple's strict standards. I can't recommend them highly enough and would definitely use him again or recommend him to a friend. If you have an idea, consult with Net-Craft!