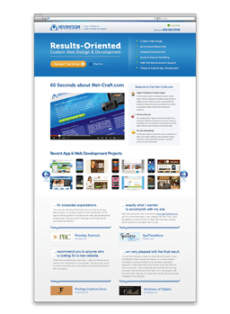 The Importance of Creating a Great Landing Page Design
A landing page is the first web page that a visitor sees after they click on one of your links. Landing pages are often designed to be a standalone page with a specific function, which is normally to persuade the visitor to take an action (whether that be click to another page, browse the store, watch a video, visit the blog, make a purchase, etc.). The action the landing page may prompt the visitor to take will typically be different for each business, depending on the purpose of the website and the landing page. Creating a few separate landing pages with the help of a company that specializes in web design in Phoenix can help you generate more conversions from every click.
A landing page should also be user friendly and informative. Landing pages usually serve to direct traffic flow to another area of the site or to take the next step in the conversion process.
What is the Function of a Landing Page to Drive Traffic to Your Website?
The landing page normally acts as the first opportunity to grab the visitors' attention and move them through the website. The landing page is also the first impression that visitors will have of your company, so it needs to be functional, attractive, and easy to navigate. Most landing pages will have a sole purpose, which should be chosen based on the next action that you would like a visitor to take after they visit your initial landing page. It may also help to design several landing pages and test them to see which one results in the most clicks and conversions. This will help you better serve your visitors and ensure that you have created an effective landing page.
How can a Good Landing Page Affect Your Bottom Line?
A landing page can be the perfect place to drive traffic from PPC (Pay-Per-Click) ads, banner ads, social media, or a variety of other digital advertising methods. With a designated landing page, you can set up a place that guides visitors to taking the next step whether that is viewing your website, browsing your products, or subscribing to your newsletter. The landing page is designed to facilitate a conversion – however you define it. By designing your landing page around a conversion, you can give your visitors the right first impression as well as help them navigate through your website with ease.
If you would like free consultation regarding az web design, please contact Net-Craft.com today.