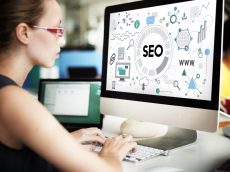 What's the Next Big SEO Thing?
If you have a website, especially if it's an e-commerce site, you know you've got to always be looking for the next big SEO thing. Without constantly keeping up with new search engine optimization strategies, you're simply going to not get the traffic, and thus the sales, that you want.
Keeping up with Google
The problem with SEO is that you've got to follow the rules set down by various search engines, and the king of these search engines is undeniably Google. Google likes to update their algorithms pretty regularly. Most of these updates are aimed at punishing those that use black hat SEO techniques — techniques designed to get websites ranked higher by using nefarious means such as keyword stuffing.
Companies that take the time to hire an SEO expert or outsource their SEO to an internet marketing company actually benefit from these updates. It's a win-win since the cheaters get the punishment they deserve at the same time.
But there are still some tips and tricks you can use to boost your ranking, but all in all, it's time you stopped doing some of these questionable techniques and start doing real marketing. If you focus on that instead of on these short-term, get-views-quick schemes, you'll see much better results.
Google Has Already Made Changes in 2017
Google has already made a number of changes this year. Local SEO has quickly become very important to businesses that serve specific communities.
Another interesting tool has come from the partnership forged between AccuWeather and Swirl Networks. This allows business owners and other organizations to access real-time weather information and use it to create messages for customers in their stores based on that information. "It's raining out — grab an umbrella from aisle 5!"
AdWords has also changed. With the new Maximize Conversions technique, Google will automatically adjust your keyword bids by looking back at your older campaign information. This saves you money while also more effectively targeting potential customers.
What's Really Changed for Digital Marketers?
What's really changing for anyone in the digital marketing industry? Attitude.
More and more people now appreciate the digital marketers for the hard work they put in. SEO companies that promise quick views by using questionable methods are disappearing, while experts are becoming noticed for their knowledge and skills. Consumers are learning what SEO is and what it takes to bring people to their website. They understand that low-quality, cheap companies simply don't get the job done.
If you're innovative and remarkable, you already have the foundation you need. With an expert SEO company that knows how to harness the next big thing, you're all set. Please contact-us if you would like to see what our internet marketing experts can do for your company marketing online.